Installation guides & tips
Float. Staple. Glue. DIY. No acclimation. Our versatile floors are wonderfully easy to work with no matter the application.
One-of-a-kind locking system
Our product's locking system guarantees that your flooring will stay in place for years to come. Each board is placed into the previous at a 20-30° angle, then pushed down into its final position.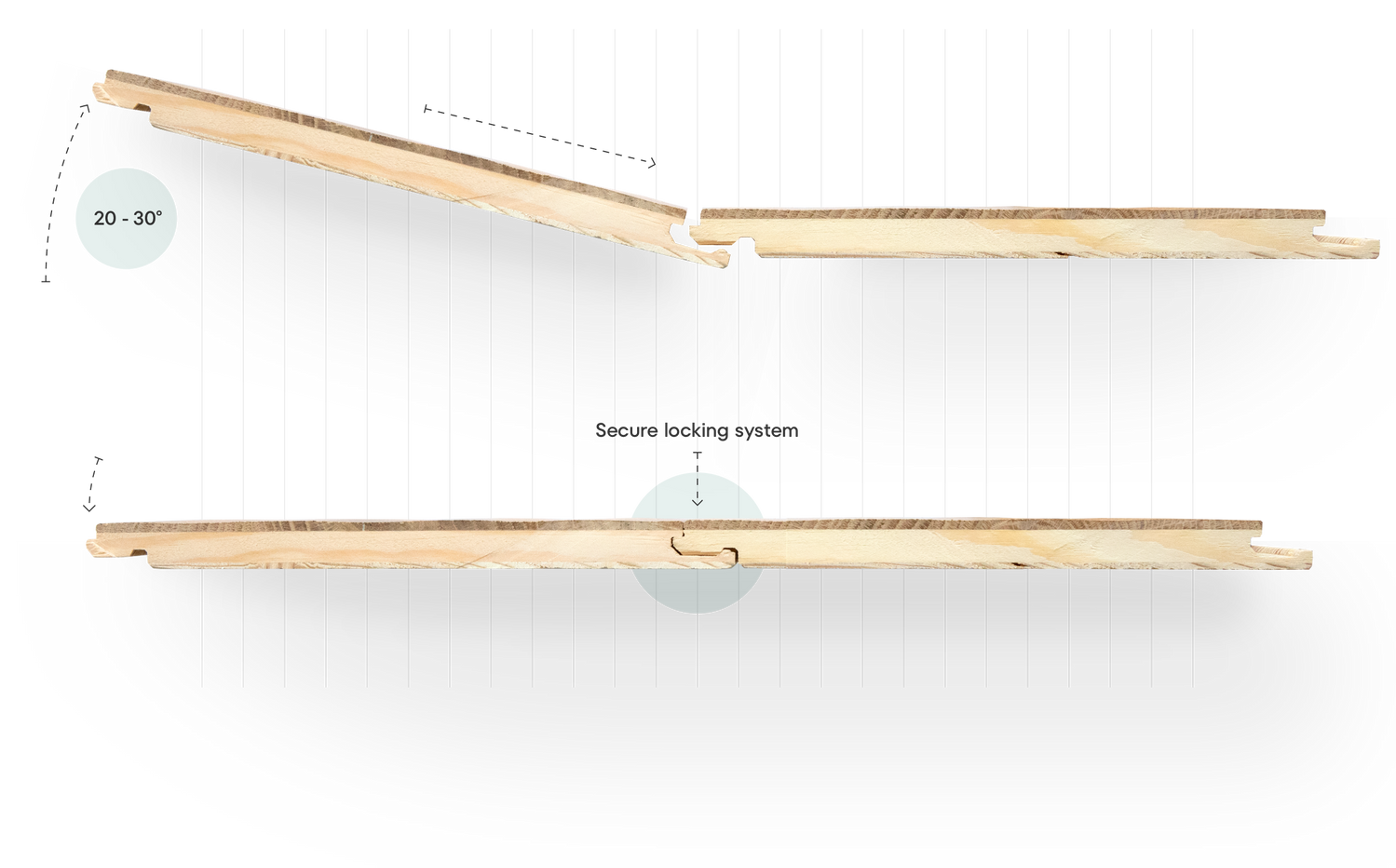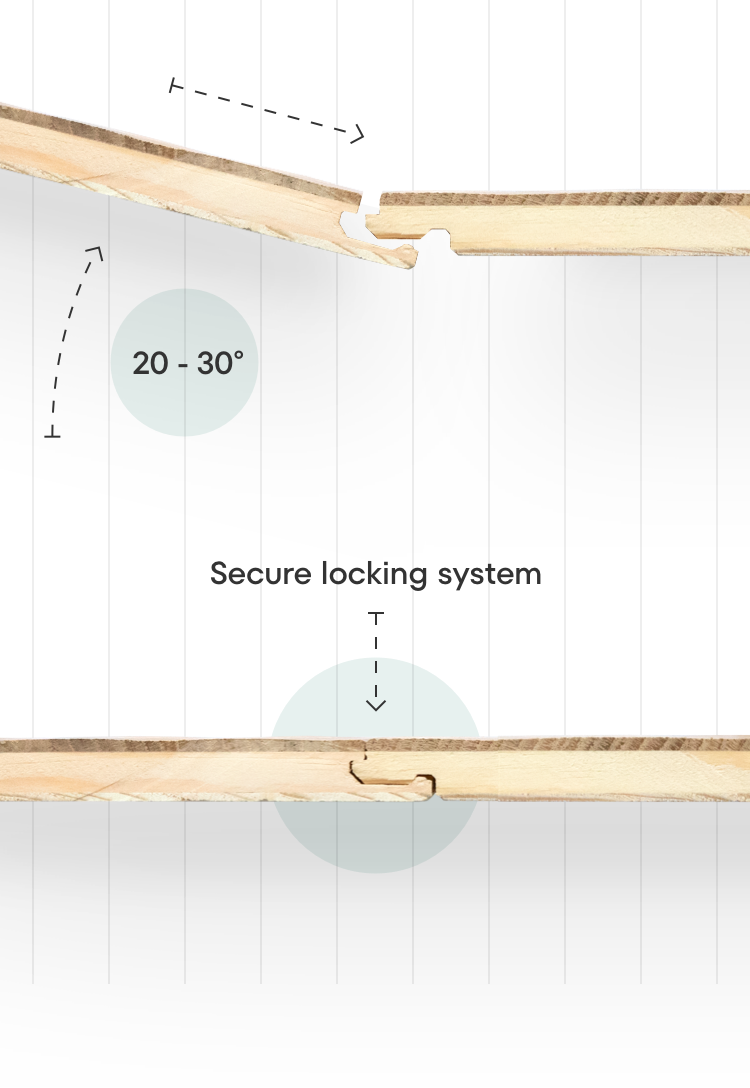 How our locking pins work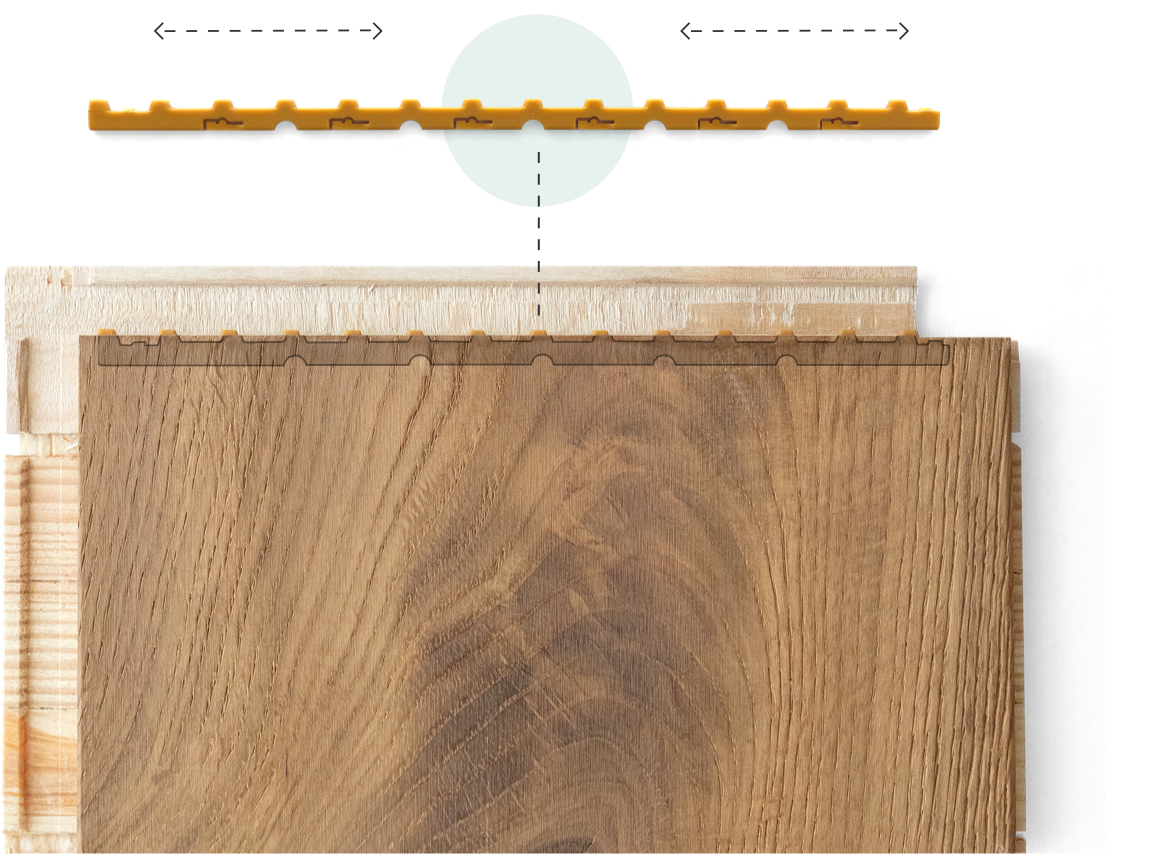 5S sliding locking pin
Our products include board-end locking pins to ensure they never move up and down or side to side. Once your board has been installed, you can use a locking tool or tapping block to slide the pin into place.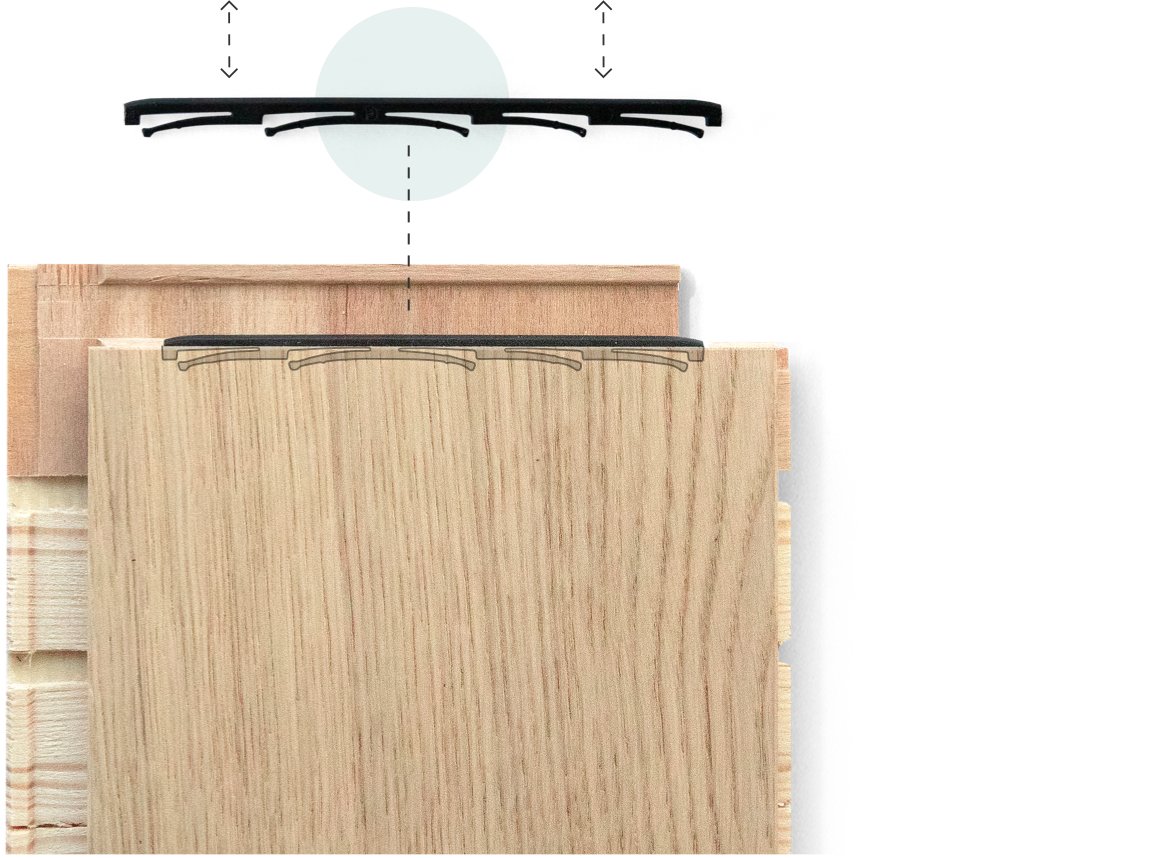 Compression locking pin
Some of our products come with a compression locking pin system. Once your board is lined up, simply push down on the board to lock into place. You will hear a "click" sound as the pin compresses into the board and snaps back out, locking them together.
Installation methods
Float
Often used in simpler installations that require few transitions, this is the ultimate Scandi way to install our innovative locking floors. You can float on any level of your home, including basements.
You will need:
Tapping Block
5S Locking Pin Tool (depending on the floor)
Nature All-in-One Underlayment
Download Instructions
Staple/Nail
Preferred by most contractors, stapling or nailing is ideal for creating seamless transitions throughout your home. Our locking floors can be stapled using an 18-gauge gun with 1/4" crown staples. Our tongue & groove floors can be nailed using a traditional angled nailer. Easy peasy.
You will need:
18 gauge staple gun (locking floors)
1.25-1.5" x 1/4" crown staples (locking floors)
Angled nailer (tongue & groove floors)
Tapping block
5S Locking Pin Tool (depending on the floor)
Nature All-in-One Underlayment is recommended
Download Instructions
Glue
Bring your artistic vision to life by gluing down your floors. We recommend low or no-VOC glues like Bona R851 and Bostik Greenforce.
You will need:
Tapping block
5S Locking Pin Tool (depending on the floor)
Bona R851 or Bostik Greenforce recommended
Download Instructions
Flooring install videos
How the Stuga sliding locking system works
How to staple down the flooring
Staple install with Chris Loves Julia
How to remove the locking system
How to change directions when stapling
Stair install videos
Flush Nosing Installation
Square Nosing Installation
Flush Nosing With Open Stringer Installation
How to measure for stuga stair parts
Quick Tips
First, calculate how many boards you need for the room's width. If the width of the last row measures less than 3", rip the boards to be used in the first row in half.
Open a few packs and mix up the boards to get a good color distribution. Check the boards for any defects.
When installing, tap boards on the middle core, never the wear layer.
Make sure there are end joints in each row. Ensure that there is a 20" (5/8" & 1/2" products) or 12" (1/4" products) stagger of the end joints in adjacent rows.
Trim the final board to the right length and start the next row with cut-off piece.
Installing in bathrooms - Stuga floors are great for half baths, but beware of voiding your warranty when installing in full-baths.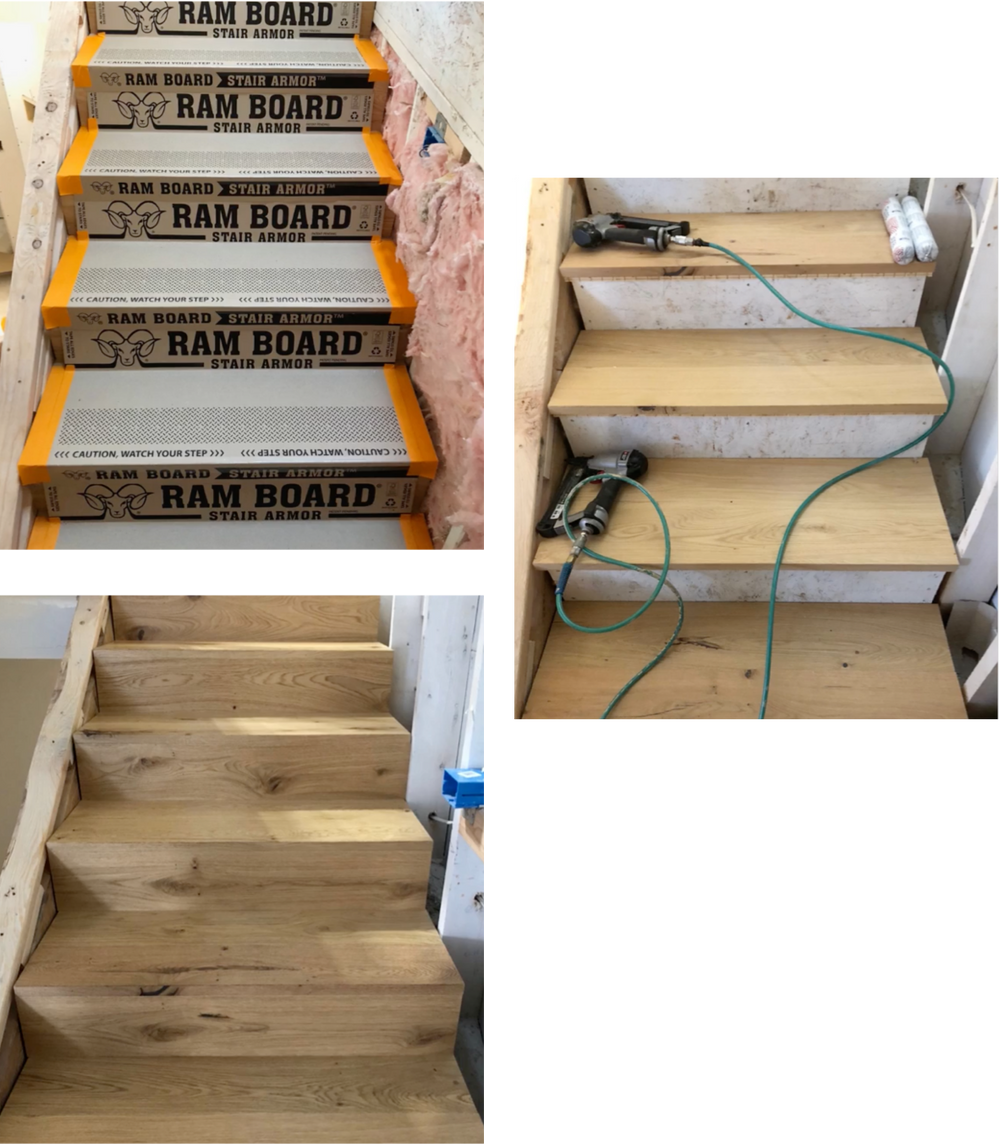 Our preferred installers
Renovation is complicated, let our preferred installers handle your floor or stair solution install. We are constantly searching and updating our list of installers around the US.
Not in your area, not a problem. Find a talented installer here: nwfa.org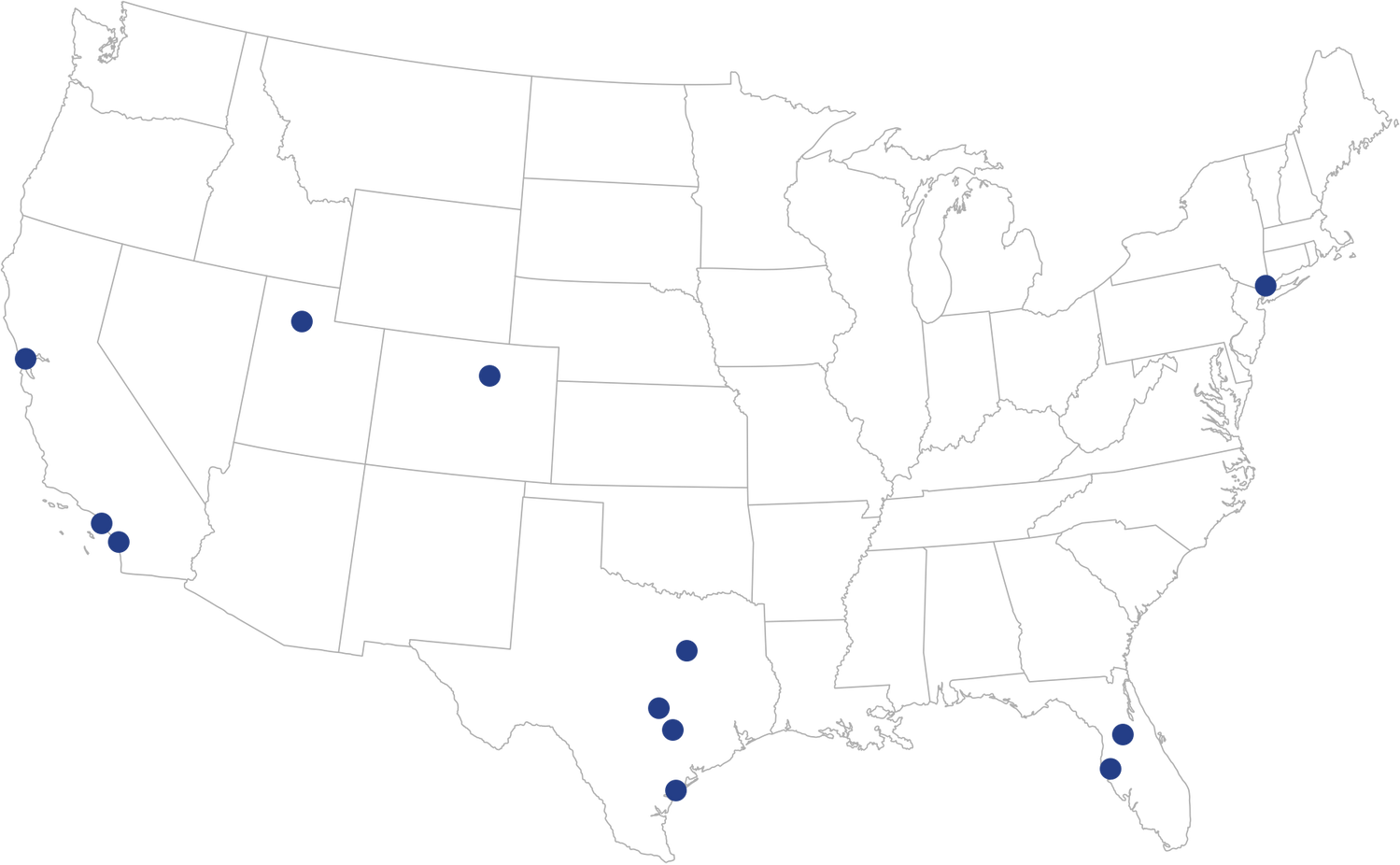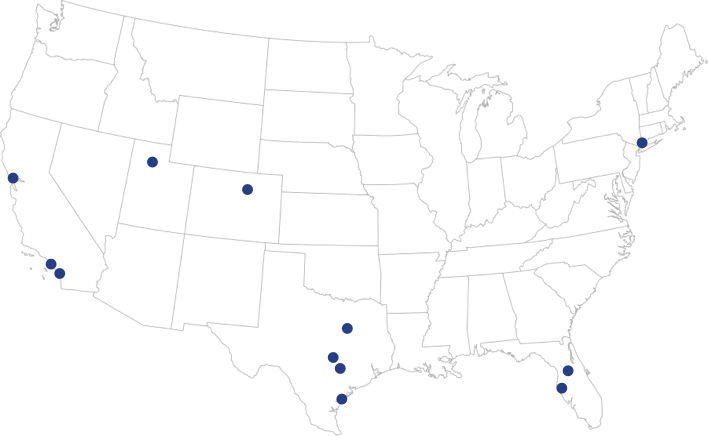 Preferred installers
California
Orange County
Custom Flooring by Brian
(714) 928-5790
San Francisco (Bay Area)
City Flooring Repair
(415) 580-8396
Colorado
Denver/Boulder
Focus Hardwood
(303) 880-2171
www.focushardwood.com
Florida
Orlando
Smooth Remodeling LLC
Martin
(407) 346-2898
Tampa
GM Construction
(813) 486-0202
www.gmconstructiontpa.com
New York
Hudson Valley
Farrell Contracting
(845) 389-8316
www.farrellcontractinginc.com
New York City
Superior Tile Stone & Wood Inc
(516) 414 7922
www.stswinc.com
Texas
Austin / Houston / San Antonio
Ingrained by Nature
(512) 557-6100
www.ingrainedbynature.com
Utah
Salt Lake City
Bluebird Renovations
(801) 580-4352
www.bluebirdrenovations.com